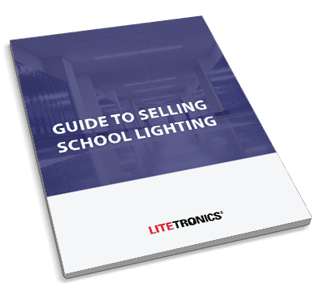 America's K-12 schools and higher education institutions collectively control over 150,000 buildings throughout the country — the vast majority of which are still lit by outdated fluorescent fixtures. For ESCOs and contractors of all sizes, schools represent a near-limitless opportunity to profit and grow by updating the lighting to energy-efficient LED technology.
But schools aren't like other organizations.
School sales cycles are long, approval processes are complex, and budgets are tight.
Our new free guide, "LED Lighting for Schools," will teach you how to demonstrate the value of a school lighting upgrade to cost-conscious decision-makers.
You'll discover that money and energy savings are crucial to school administrators and educators … but they're not everything. LED lighting has other benefits in educational settings. For example, did you know that LED lighting can improve student performance? Administrators may not know it — but they'd be very interested in hearing more.
In "LED Lighting for Schools," you'll learn:
How to tell if the time is right for a school lighting upgrade.
How LED lighting saves school employees' time and energy, fosters the optimal learning environment, reduces energy costs, and promotes inclusivity.
The common use cases for LED lighting and advanced controls in the school environment (including classrooms, gymnasiums, hallways, and administrative offices).
How to select the best-performing fixtures for school lighting projects.
Fill out the form to become an expert on LED lighting for schools!