From Fortune 500 companies to small mom-and-pops, businesses and organizations of all shapes and sizes are prioritizing sustainable practices.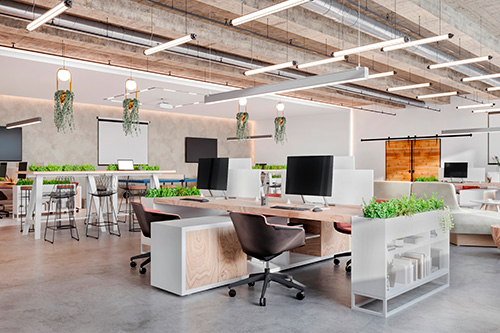 At Litetronics, our goal is to help businesses and organizations of all sizes become more aware of the importance of sustainability, and how their lighting choices can help.
Fast Facts on Sustainability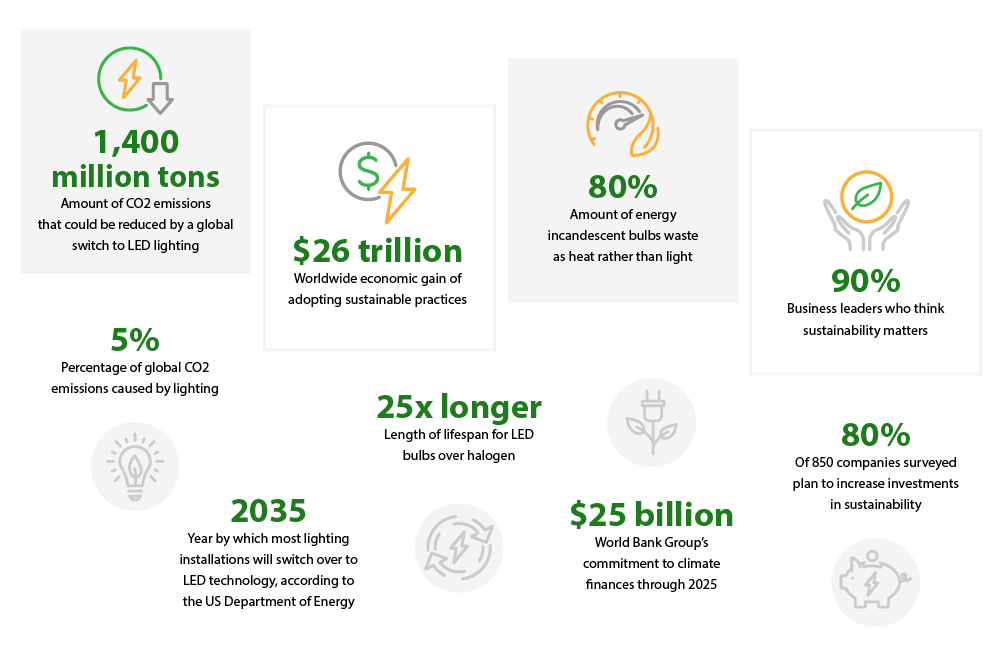 Sustainable business practices matter to your customers like never before. But just what is sustainability, and what does it have to do with LED lighting?
A Message From Our CEO
"For more than 50 years, Litetronics has built our business on the belief that sustainability can be a driver of innovative technology. The LED products we sell are designed to be more energy efficient, less materially wasteful, and better for the planet we share. These are values we've held since our very beginnings, and I'm pleased to say that we're not alone.
Today, leaders around the world have made a commitment to build on sustainable practices. Companies like Litetronics are well-positioned to help continue leading the way. We have demonstrated that it is possible to grow a company while prioritizing the environment and our social responsibilities. I am proud of the work that we've done, and excited for what we yet plan to accomplish.
If you're still learning about what sustainability means, or why it's great for your business, I invite you to read on and learn more. Together, we can use LED lighting to build a very bright future."
– Robert C. Sorensen, CEO
To jump to a specific section, click on one of the links below.
What Is Sustainability, and What Does It Have to Do With Energy Efficiency?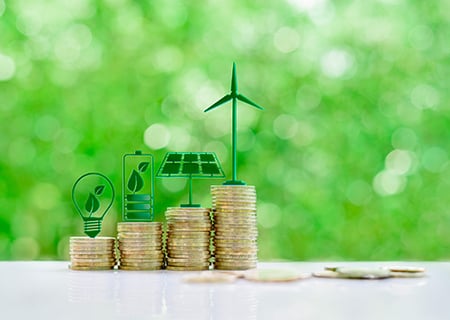 In the simplest terms, sustainable practices are those that recognize natural resources as finite, and seek to use them responsibly.
"Sustainability," then, refers to any efforts that help avoid or prevent the depletion of these natural resources.
In the energy sector, this can be understood in several ways. First, it suggests less reliance on natural resources like coal, which can be depleted and therefore would not be considered sustainable. Second, it means a greater reliance on renewable resources like sunlight and wind, which, by definition, can't be exhausted.
But another piece of the puzzle can be found in the way organizations use energy. By consuming less energy in the first place, they can help slow down the depletion of resources. That's where energy-efficient LED lighting can play an important role.



"By changing out our fluorescent T8 lighting technology for LEDs, we knew that we'd experience longer life, less maintenance, and the benefit of energy savings."
– Anthony Ferraro, CEM, PFD, Miami University Energy Management Engineer
Another way sustainability is measured is by something called the "carbon footprint." A carbon footprint is, in effect, the sum total greenhouse gas emissions caused by an individual's or organization's behavior. Since greenhouse gases have a destructive effect on the environment, producing a lot of emissions works against sustainability goals.
Lowering these emissions, however, has an overall positive effect. Here, too, energy efficiency plays a big role. By replacing inefficient lighting with LEDs, organizations can reduce the amount of energy they use every day, reducing their carbon footprint (and saving considerable money in the process).
As you've probably gathered, achieving "sustainability" is no simple task. Businesses and other organizations are looking to you for advice and guidance on how they can use more efficient lighting as part of accomplishing that goal.


Why Does Sustainability Matter?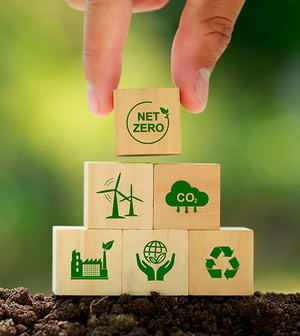 We know many of the natural resources we rely on — including those that make energy, like coal and oil — are finite in nature. Without proper planning, we may exhaust these resources without anything to take their place, which would deal a serious blow to many economies.
But there's another dimension in today's push for sustainable business practices. If we think about sustainability as a future-focused orientation, then we need to consider the world we're helping create. Sustainable practices help ensure a better tomorrow.


What Does Sustainability Look Like for Different Organizations?
While organizations of all stripes have taken an interest in sustainability, no two approach it in exactly the same way.
Yet if you're in the LED lighting industry, it helps if you have some broad context on what sustainability goals might look like for different organizations.
Here are a few "big bucket" examples, and how LED lighting might fit into each.
Big Business, Sustainability, and ESG Frameworks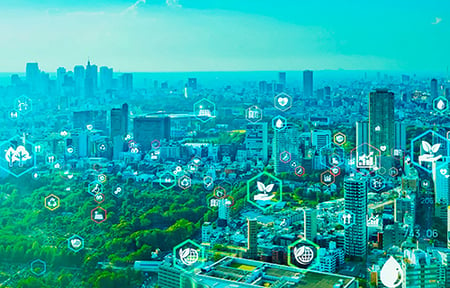 To understand how big businesses might approach sustainability, it helps to also understand the environmental, social, and governance (ESG) framework many have now adopted. While the concept hasn't been around quite as long as sustainability, it isn't brand new, either — ESG as a concept arose sometime around 2005.
ESG provides a metric by which a company's social and environmental impacts can be measured. While any business could theoretically adopt the ESG framework, for the most part it's enterprise-level organizations that have the resources to develop and execute on a formal strategy.
If you're trying to sell LED lighting to a big business, one way to start the discussion is to ask about their ESG strategy and how it relates to sustainability. What investments are they making to become more energy efficient? How are they working to reduce their carbon footprint? Since LED lighting can make a big impact on both of those problems, you may find these companies take an interest in your approach.
You Can Help Small Businesses Do More With Less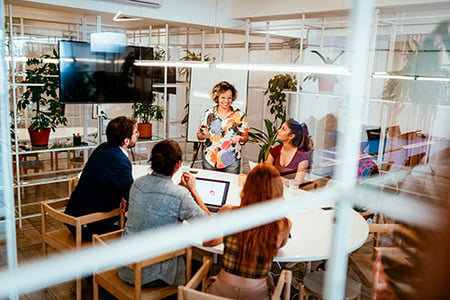 While large enterprises can devote time, money, and resources into building out an ESG framework, that probably won't be the case for most small businesses. In fact, you'll probably find the exact opposite. Small business owners are often stretched thin, and trying to wear far too many hats (if you'll excuse us for mixing our metaphors).
While you'll want to ask about sustainability goals, that likely isn't the top priority for an average small business. They'll be far more persuaded if you demonstrate the ROI that comes with LED lighting, thanks to the energy savings.
That's not to say sustainability shouldn't be part of your pitch. But you should keep your audience in mind, and adjust your approach based on their most pressing concerns.
Governments, Schools, Healthcare, and More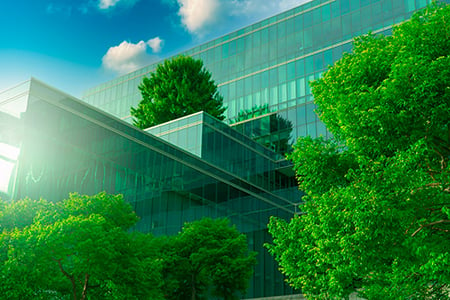 Sustainability goals also exist in the nonprofit sector, though every organization is different. For example, federal buildings must adhere to particular sustainability mandates that guide their design, construction, and operation.
On the other hand, healthcare facilities and hospitals may have their own sustainability plans, but these are often rooted in efforts to help reduce costs. The same is true for many schools and other nonprofit organizations that are tasked with being good stewards of sometimes very limited budgets.
For all these organizations, sustainability is just one of many factors they have to consider as they plan any large project. Familiarizing yourself with individual industries and how they benefit from LED lighting is the best way to get started.
What Does Sustainability Mean for Lighting?
If you sell LED lighting, it's important to understand how sustainability connects to building standards, design, maintenance, and more.
All these factors give context to the concerns of your customers and help explain how LEDs can address them.
"The call for lighting solutions goes beyond illuminating a space. Lighting is expected to contribute to the solutions for climate change, interoperability with other building systems, public health and wellness indoors, energy efficiency, conservation, and the social and governance impacts a company has on the communities in which it operates."
– UL Solutions, Sustainability Solutions for the Lighting Industry
Leadership in Energy and Environmental Design (LEED) Standards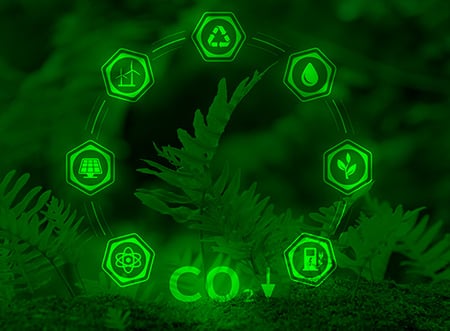 LEED standards, developed by the U.S. Green Building Council, are the most widely used green building rating system. That may be in part because LEED-certified buildings provide a healthier environment for workers, have a smaller carbon footprint, use less energy, and cost less money to operate.
You yourself can obtain a LEED certification, which may help you qualify to take on certain projects. In any case, it's a good idea to get familiar with the LEED standards in general, which include many guidelines for lighting.


Better Savings Through Design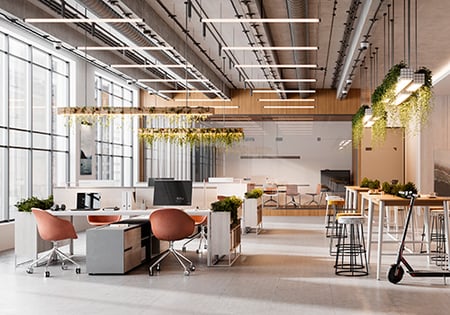 Another factor to consider on your projects is how lighting design can affect energy savings.
Learning about what products are best for which applications will help you tremendously when you visit a new customer's site. For example, some fixtures, such as the Vivid™ LED Frame, offer both energy savings and tremendous versatility, making them a great fit for any number of commercial applications.
The Carbon-Reducing Benefits of LED Lighting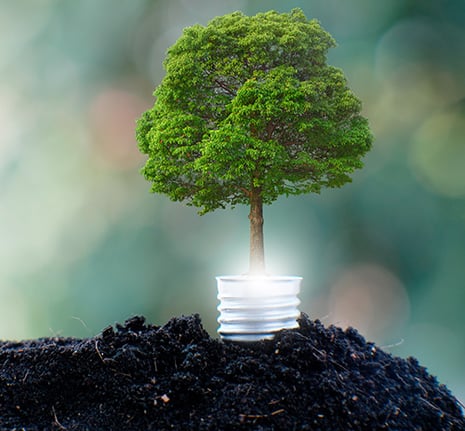 By now, most everybody knows LED lighting uses less energy than incandescent bulbs.
But LEDs have other benefits that help reduce their overall carbon footprint.
For example, LEDs have a much longer life than incandescent bulbs, which means your customers will produce less waste. LEDs also have lower maintenance costs, since they don't need to be changed and replaced nearly as often. And unlike CFLs, which have such high levels of toxic chemicals they require special disposal, LEDs can be disposed of with other materials when it comes time to change them.
Some of these benefits may seem small at first … but over the lifetime of each LED, multiplied by the number of LEDs on the property, your customers will see some significant benefits.
How to Incorporate Sustainable Lighting into Your Retrofit Projects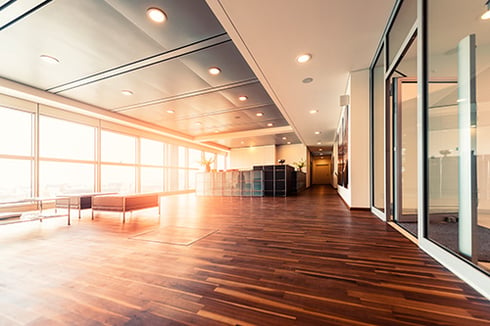 The good news? If you're working with LED lighting, you're already well on your way to helping your customers achieve their sustainability goals.
LEDs save energy, create less waste, and require less maintenance than other bulbs. Add it all up and you have a sustainable lighting option that helps your customers reduce their carbon footprints.
As an advocate for sustainability, Litetronics has spent a lot of time developing new products for a vast number of industries, each with their own unique applications.
One exciting new frontier in sustainable lighting is the advancement of "smart LEDs," that automatically adjust lighting based on the time of day, room occupancy, or other programmable parameters. This technology helps ensure even less energy is wasted, without the need for human oversight.
We've been in the industry long enough to know that advancements like these will only continue, and we'll be ready to embrace them when they do. When you work with Litetronics, you have access to the latest technology that will help your customers achieve their sustainability goals.