There are more than 130,000 K-12 schools and 52,000 higher ed buildings in the United States — many of these constructed in the 1950s–1970s — whose overseers may be considering a switch to LED lighting to save on energy costs and provide a better environment for learning.
It's a great opportunity for ESCOs and contractors of all sizes.
But that doesn't mean you'll earn an easy "A" with decision-makers: Schools are unique facilities with multiple use cases. The sales cycle and approval process can be complicated, and so can securing the funding.
The bottom line? Before talking with a school about an LED upgrade project, you need to understand the particulars of school lighting.
That's why we've created this guide. Whether you're a contractor or facility manager — or you simply want to learn more about LED lighting in school settings — we'll show you:
The signs that it's time to make (or propose) a switch to LED lighting
The benefits of LED lighting in school environments
Common use cases for LED lighting in schools and which advanced controls may be exactly the right fit
To jump to a specific section, click on one of the links below.
Signs It's Time for an Upgrade to a School's Lighting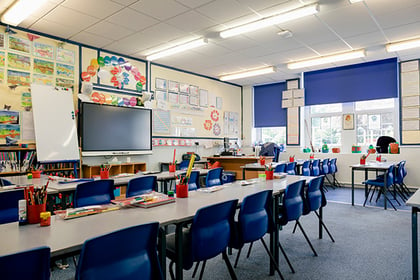 Let's start with a given: Upgrading to LED will be a significant energy saver for schools, and that's likely why they're even considering the project.
But school customers may not know about the other costs of sticking with their existing lighting. It's up to you to show them how their outdated lighting could be holding them back.
Outdated Lighting Is Wasting Employees' Time and Energy
Fluorescent fixtures are typically found in classrooms and school facilities. But where LED can be smart lighting, fluorescent … isn't. Instead, to save on energy, schools depend on staff or even students to remember to turn lights off when they leave the room.
Plus, older lighting is also typically wired all as one, so a classroom is either fully lit or dark, with no in-between. This can leave teachers resorting to workarounds (like self-purchased lamps) just to achieve the right lighting for a particular purpose.
And what of maintenance staff? A lighting system should last as long as possible, especially in a school building where maintenance can be disruptive and costly. Fixtures in certain areas can be difficult to maintain due to their placement and the nature of the space.
Your Lighting Isn't Inclusive for All Students
Fluorescent lights have a "flickering" effect that can make it challenging for students to focus on their work for extended periods of time and can even lead to eyestrain. As a result, students may feel fatigued before the day is over and have a harder time retaining information.
Additionally, younger students or those with sensory issues or learning disabilities may struggle with the light from outdated fluorescent lamps. In addition to the distracting flicker and complete lack of dimmability, these fixtures are also known for the "humming" noise some students may be able to hear (and struggle to tune out).
Energy Costs Are High
Like we mentioned, energy costs will likely be the main driver behind any school's interest in switching to LED lighting. After all, lighting represents 17% of energy end use in K-12 schools in the United States. The high overhead cost of consistently running old lighting systems can rob other areas of a school's already-tight budget.
This may be part of why, as many industries are working toward practicing sustainability, education has been a frontrunner.
So, we've established that on-or-off, perpetually buzzing, energy-wasting, forgot-to-turn-them-off fluorescent lights are doing schools and educational facilities no favors whatsoever. Now it's time to look at how LEDs can offer a win-win for the school's budget and its students.
Benefits of LEDs for School Buildings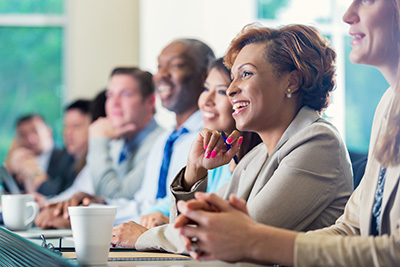 Today's high-efficiency LED lighting and advanced features help educational facilities lower their energy consumption and realize significant cost savings.
Getting the funding for a school project may mean dealing with committees at the school and district levels as well as with other stakeholders like parent groups and facility managers. Your customer contact may need to justify the investment to a district school board or even the public in the case of a school bond election. The more concrete benefits they see, the more likely the project is to be greenlit.
Today's high-efficiency LED lighting and advanced features help educational facilities lower their energy consumption and realize significant cost savings.
Less Staff Time Wasted
Replacing light fixtures can be challenging, especially in areas with high ceilings. Fortunately, LED lighting for classrooms has a much longer life span than do other types of lights. This means less time spent on replacing or repairing them, and fewer disruptions to the normal operation of the building.
Additionally, LED lighting can be paired with smart controls that improve efficiency (like daylight harvesting, occupancy sensing, dimming, scenes, grouping, and scheduling) — features that aren't available in older systems. These features allow staff to quickly select the optimal lighting for any situation, reducing disturbances and time-wasting workarounds in the classrooms.
Energy Savings
School districts and college facilities managers will be aware of the bottom line in ongoing facility maintenance costs. The prospect of having "install it and forget it" LED fixtures will be a big bonus.
In addition to the baseline savings schools can expect from upgrading to LEDs, schools will also appreciate the impact of smart lighting features like occupancy sensing and daylight harvesting that don't depend on any action by staff or students to help them lower energy costs.
To sweeten the deal, energy-efficient LED lighting systems also qualify for rebates and incentives that can help offset the cost of installation in addition to the savings realized through lower utility and maintenance costs.
Inclusivity
School environments need to be welcoming for all children and conducive to learning, yet the traditional fluorescent overhead lights used in schools can be too harsh.
Lighting that's flexible and adaptable enough to fit everybody's needs, fits … well, everybody's needs, and helps remove antiquated barriers (and design principles) that stand in the way of students and staff thriving to their full potential.
Not only does today's LED lighting help create a more inclusive place of learning, it also helps future-proof the facility. For instance, a small school may not currently have any students with sensory issues (that they know of) and may not see the need for advanced features. But they have no way of knowing what the future holds or what their student makeup will look like in five years.
Many schools are making changes in the building environment to better accommodate student well-being, in accordance with diversity, equity, and inclusivity initiatives. The steady but controllable light from today's LED solutions can provide a much more comfortable learning and working environment for everybody.
Understand Common School Use Cases
The list of possible use cases within one school building can be long:
| | | |
| --- | --- | --- |
| Classrooms | Labs | Cafeterias and kitchens |
| Libraries | Restrooms and breakrooms | Gymnasiums |
| Storage closets | Private offices | Locker rooms |
| Stairwells and corridors | Parking lots and walkways | Dorms and residential common areas |

Let's look at some of the most common ones.
Classrooms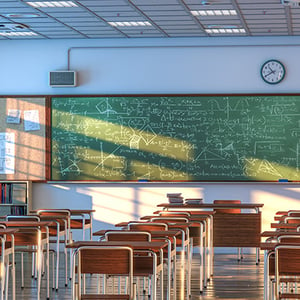 On-or-off fluorescent lighting might've been sufficient when books and chalkboards were the primary teaching tools, but today's classrooms have more complex needs.
A teacher may want to dim the lights to varying degrees so the class can use their tablets or Chromebooks, focus better on the whiteboard, or watch a video together.
Teachers' ability to control light intensity and color temperature can allow them to tune the class environment to the needs of their students, making it a less painful environment for these students.
Some classrooms may not be in use every period of the day, especially in higher ed facilities, so occupancy sensors are an obvious choice to reduce energy use. When a room's use pattern is intermittent or unpredictable, occupancy sensing may be a better option than time scheduling.
Administrative Offices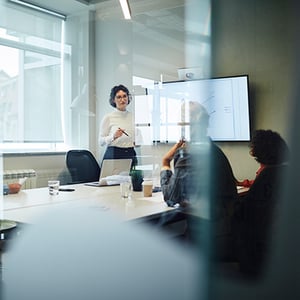 School leadership and administrative staff work in spaces most similar to offices. These types of spaces need lighting that can be adjusted to meet the needs of a variety of workers and activities — and older fixtures just can't do that.
Offices may be located around the perimeter of a school building, making them an ideal application for daylight harvesting. A teacher's lounge or breakroom may be used only intermittently during the day, so occupancy sensing would be useful.
Related Reading: For more ideas on the use cases for offices and how LEDs can make these spaces more energy efficient and appealing, check out our Guide to Better Office Lighting.

Hallways, Atriums, and Other Common Areas
There are areas within a school that get plenty of traffic but that aren't always in use.
Occupancy sensors in areas like atriums and hallways can save schools a lot of money in energy costs by dimming those lights during daylight hours or during after-school activities.
A large-windowed cafeteria or an atrium will get a lot of natural light, making them great candidates for daylight harvesting.
Then there's the issue of safety. Schools won't want students or staff stumbling around in the dark in a storage room looking for the light switch or carrying supplies into an unlit stairwell. Higher education campuses are in use 24/7, and you'll need to include safe access at all hours to your lighting proposal.
In older facilities that have been remodeled, switches aren't always in the closest or most convenient location. This is another good application for occupancy-sensing fixtures, especially in infrequently used areas where lights can be mistakenly left burning for days.
Gymnasiums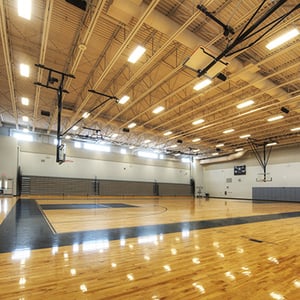 Gymnasiums have different lighting requirements than do classrooms. And the level of light required can be dictated by use. For instance, standard gymnasiums can have the same lighting levels as classrooms, or 50 ft candles luminance. This would be appropriate for a gym in an elementary school that doesn't do competitive sports, only gym class.
The requirements go up in a junior high or high school gym that hosts competitive sports. In that case, a luminance of 70 ft candles would be required. A high-ranking high school or college that televises its basketball or volleyball games could require a luminance of 100-200 ft candles.
Reliable, adjustable LED lighting allows for championship-game brightness or tumbling-class warmth, all at a fingertip and without the eye-watering energy bills.
Benefits of Litetronics Products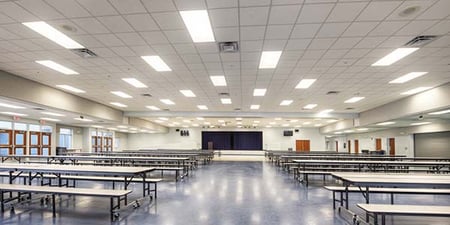 As an industry leader with 50 years of experience, Litetronics has extensive expertise in serving this sector. Our luminaires and retrofit lighting for schools have benefitted countless customers in education. Our experience in commercial LED lighting makes us an ideal partner to provide high-quality fixtures and retrofits for schools and other educational facilities.
Here are just a few of the ways we make life easier for clients:
Our LED fixtures come with a 10-year warranty. This can be a lifesaver for ESCOs on a performance contract doing multischool projects that don't want to bust the budget returning to fix things.
Our magnetic retrofit products (the first in the industry) make for fast installation with fewer tools and less training needed. School customers won't want any facilities to be out of commission, so a fast installation will be a top priority.
Customizable lighting settings allow you to install one product with the capability for different settings. Installers have to be familiar with only one product, reducing the likelihood of errors.
Schools are a combination of one giant network with classrooms as little bite-size networks within the larger system. Our products can include smart systems that are ideal for commissioning these environments. Bluetooth eliminates the need for wiring. Schools get the customizability they need, and teachers have control with simple but effective functionality versus complicated overkill.
Even proposals are faster. Everything about our products is in the Downloads section of our website: PDF versions of spec sheets, IES files, warranties, instructions, dimming capabilities, and more are available with just a click.
LED Products

for School Environments

Now that you have a handle on the common use cases in schools, it's time to select top-notch LED fixtures for the project. These Litetronics' products are rated for long life and are designed to make installation a breeze — and we've got the logistics to get them to your job site as soon as you need them:
Retrofit Kit Strips
Fluorescent strip fixtures just don't offer adequate light. Freshen up a space AND save energy with LED Strip Retrofits in existing troffers. They deliver long-lasting LED light while preserving the look of the space.

Retrofit Kit Panels
When replacing outdated fluorescent fixtures, you want an option that combines top-of-the-line efficiency, modern controls, a traditional look, and a quick installation process. If that's your project, this LED panel retrofit kit is the ideal solution.

Strips
Outdated, inefficient lighting impacts the look of a space. The LED Strip Fixture provides the latest in energy efficiency combined with long-lasting, uniform light, ensuring an improved overall look as well as financial benefits.

Flat Panels
Ideal for grid ceiling applications where customers want to improve energy efficiency, quality of light, and the look of the space. This fixture can be automated with field-adjustable light output to meet the needs of the space and the occupant experience. Fits seamlessly into all standard 2' x 4', 2' x 2', or 1' x 4' grid ceiling layouts.

High Bays
Our fan-favorite LED Linear High Bay and LED Round High Bay PL fixtures now come with the option of a plug-in sensor, so you don't have to choose one SKU or the other up front. Adding a smart sensor makes these high bays compatible with mobile apps for floor-level control of dimming, scenes, and more.
Make an A+ Impression on Potential School Customers
Of course, energy efficiency and cost savings will be key benefits for any school considering an LED upgrade. But you'll be at the top of the class if you can showcase all the additional savings and valuable control options that LED can offer.
We've put together a Guide to Selling School Lighting with insider advice that will make your company stand out and help you secure more projects in the lucrative education facility market. Download it today, and win more school jobs tomorrow!